Evening Primrose & Lavender Body Oil
by Martha Hill
Lightly fragrant, natural massage oil.
Suits all skin types.
Good for sensitive, easily irritated skin.
Description
This vitamin rich blend of light, pure plant oils will help to soothe dry, irritated skin, moisturise and improve skin tone and texture.
With a light fragrance of natural lavender the oil is easily absorbed.
Both Lavender and Evening Primrose are benficial in soothing minor skin irritations.
Includes
Grapeseed Oil.
Sweet Almond Oil.
Apricot Oil.
Peach Kernel Oil.
Jojoba Oil.
Oil of Evening Primrose.
Lavender Oil.
Vitamin E.
Free From
Artificial colour.
Perfume.
Primary petro-Chemicals.
Parabens.
Benefits
Cruelty Free.
Vegan.
Made in the UK.
To Use
Gently massage oil all over body, concentrating on any dry areas such as the shins, elbows and shoulders.
For maximum benefits apply after bathing to warm skin.
Works well with Evening Primrose Body Lotion.
Additional Information
About Evening Primrose Oil:
One of the common names for Evening Primrose is "kings cure all", and this name reflects the wide range of healing powers ascribed to this plant. The oil is extracted from the seeds and is rich in GLA (gamma linoleic acid.) It has been shown to have anti-aging, antioxidant properties and also acts as an anti-inflammatory, helping to reduce redness and discolouration. Research suggests that the oil may help in treating skin disorders like eczema, adult acne, etc.
About Peach Kernel Oil:
A light yet rich, fine-textured oil, easily absorbed and with wonderful revitalising, nourishing, regenerative and moisturising properties. It helps prevent dehydration, smoothes wrinkles and encourages elasticity and suppleness in all skin types. It is especially beneficial for sensitive or inflamed skin, such as eczema or psoriasis and is also good for delicate or mature complexions. Its regenerative and tonic effects help to cleanse and tighten the pores of the skin. This oil contains vitamins E & E and is also high in essential polyunsaturated fatty acids.
About Grape Seed Oil:
Light, fine and non-greasy, this oil penetrates easily and quickly. The oil is water dispersible and is suitable for all skin types. Extremely soothing and an excellent emollient, it is ideal for delicate and mature skin and is finer even than sweet almond, and therefore absorbs more quickly, leaving the skin feeling satiny soft. Its slightly astringent nature may also help tone the skin. High in vitamin E, as well as other vitamins, minerals and proteins, it is a natural antioxidant. It also contains a high percentage of linoleic acid, (omega 6) an essential fatty acid.
About Lavender Oil:
Lavender is the most versatile of all the essential oils and is calming, soothing and The fragrance is sweet and flowery with a woody undertone. An ideal choice if you are suffering from depression, stress or irritability. It is particularly helpful for insomnia. For centuries lavender bags kept moths and insects at bay in linen closets and clothes drawers.
In studies it has been shown that lavender oil inhibits and destroys the growth of numerous harmful disease-causing bacteria and it is also used successfully in dentistry and veterinary medicine. French scientist Rene-Maurice Gattefosse is credited with discovering lavender's amazing healing properties on burns when he was severely burnt during a laboratory accident. He went on to treat serious burns and war injuries while he was a surgeon in the French army.
This powerful oil is a strong antibacterial, anti-fungal and antiseptic agent and is particularly useful for soothing a variety of skin irritations and disorders, including dryness, acne, dermatitis, eczema, psoriasis, bruises, dandruff, athletes foot, wounds and abscesses. Especially healing, cleansing and soothing for burns, including sunburn, it can also ease the pain of insect and snake bites.
Comments & Customer Reviews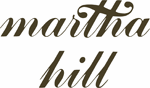 Martha Hill
Serious herbal skin care for over 40 years.
With the original range formulated in the late 1960's Martha Hill was well ahead of her time in producing a range of skincare products based on the purest natural ingredients.
All Martha Hill products are formulated to react to your skin's daily needs. They are finely balanced to ensure that your skin receives the care it deserves. Based on a carefully researched combination of the finest natural oils and extracts they are designed to cleanse, tone, moisturise and nourish: the four essential steps to a healthy, glowing complexion.