Hair Repair Cream
by Hairwonder
Daily care & repair.
All hair types.
Leave-in formula.
Enriched with 8 certified organic ingredients.
Paraben free.
Description
Instantly makes the hair healthy, shiny, silky soft and easy to comb. Strengthens the hair and helps to prevent hair breakage and split ends.
For all hair types and daily use. Ideal for dry, dull, frizzy, static and damaged hair.
Enriched with 8 certified organic ingredients, Phytokeratin and Provitamin B5.
Includes
Jojoba seed oil
Provitamin B5
Vitamin E
Corn protein
Wheat protein
Soy protein
Rooibos leaf extract
Green Tea leaf extract
Senna leaf extract
Matricaria flower extract
Hops extract
Lemon Balm leaf extract
Ginseng root extract
Rosemary leaf extract
To Use
Apply a small amount on dry or towel dry hair. Do not rinse. Non greasy.
Advice
Use in combination with Hair Repair Shampoo or Hair Repair Gloss Shampoo.
Comments & Customer Reviews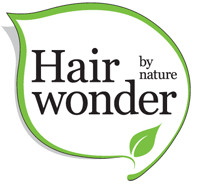 Hairwonder by nature
The secret to healthy hair!
Hair specialist since 1985.
Hairwonder makes your hair stronger. Besides the certified organic ingredients we also add a unique combination of Phytokeratin and Provitamin B5 to each Hairwonder product.
Scientific research has proven that Phytokeratin and Provitamin B5 make the hair stronger, hydrate and provide superior shine.
Most Hairwonder products are Paraben free. The range is not tested on animals. Innovations that contribute to a sustainable way of life and health.