Balm For Hardworking Hands
by Badger
Ref:

BA-210

Price:

£ 8.99 Add to Basket

Buy any 2 tins and get free Badger Focus Balm *
* Buy any 2 Badger Balm tins and get Badger Focus Balm for free. Prices will be automatically adjusted in your shopping basket. Offer limited to one free product per order.
Concentrated goodness.
Certified organic.
Description
A super moisturizing organic salve for your dry cracked hands and any chapped, rough and weathered skin.
It has the mild scent of Sweet Birch and Wintergreen Oils, which have been traditionally used as an antiseptic, a muscle rub, and to ease the occasional symptoms of skin problems like psoriasis and eczema.
Badger Balm is tough enough to soothe rough, dry skin, but gentle enough to use every day.
Includes
Olive fruit oil
Beeswax
Castor seed oil
Aloe Vera leaf extract
Sweet Birch bark oil
Wintergreen leaf/stem oil
Benefits
Ultra-rich, ultra-moisturizing balm that will soothe and soften your dry cracked hands, fingertips and skin.
Rub this on to any chapped, cracked, rough, or weathered skin, and be amazed at the results.
Light wintergreen scent - great for men & women.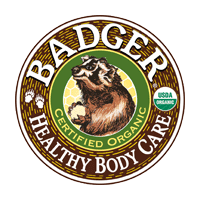 Hand & Foot Balms
100% Natural, totally good.
Now USDA Certified Organic.
100% Vegetarian.
The key to these super soothing balms is in the ingredients: Organic Extra Virgin Olive Oil and Beeswax. They are rich in natural ferments, enzymes, vitamin E, and essential fatty acids, which leave your skin feeling silky smooth. This simple combination of oil and wax is gentle enough for problem skin yet tough and effective enough for rough weathered skin anywhere on the body.