White Jasmine Eau De Toilette
by Woods of Windsor
Description
An elegant and sophisticated modern floral fragrance opening with fresh leafy top notes combined with the refined floral heart of Jasmine and the exotic bloom of Ylang Ylang.
This premium quality White Jasmine Eau de Toilette perfume uses only the purest natural oils for a distinctive, long lasting effect.
Free From
Up to 96% naturally derived ingredients.
Paraben free.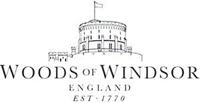 Woods of Windsor
The origin of the Woods of Windsor luxury bath, body & homes brand comes from a small apothecary located in the shadow of Windsor as far back as 1770. This local apothecary served not only the townsfolk of Windsor, but also the Royal family and its distinguished visitors.
It was here in 1970 at the old Woods Pharmacy, that a treasure trove of centuries-old recipes and prescription books were discovered, the formulas of which inspired the creation of a range of fragrances and bath luxuries which became the Woods of Windsor brand, now a byword for refined elegance and quality.
Capturing all that is most glorious about our nation in full bloom, each fragrance is infused with a charm and romance that is unmistakably English.