Woobamboo Small Interdental Brush Picks
---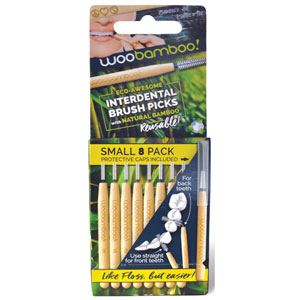 Key Info
Like floss but easier!
With natural bamboo.
Description
The WooBamboo Brush Picks have been made to be as biodegradable and sustainable as possible! The leaflet & box are made from paper & cardboard, and the handle is bamboo - an awesome biodegradable, renewable & sustainably grown resource! Extra durable nylon bristles deliver superior cleaning ability. The cap also allows brush to dry between uses and keeps bristles clean. Slim Ergonomic Compact Handle, allows the user to rotate the brush on insertion, resulting in less pressure being placed on the tip of the brush. Resulting in less bending of the wire. The smart design of the slim bamboo handle, results in less plastic per item = less overall waste.
Contains
Size small in a convenient 8 pack.
Pick Size
0.8 = smallest hole brush will fit
0.45 = twisted wire diameter (mm)