Manuka Honey Special Care Hand & Nail Conditioning Crème
by Wild Ferns Pure New Zealand
Rejuvenating and nourishing hand treatment.
80+ manuka honey.
Made in New Zealand.
Description
Filled with over 10 skin loving natural ingredients this quick absorbing hand crème will leave you with conditioned cuticles and silky smooth hands.
Contains premium certified Manuka Honey 80+ blended with Prosina, a hydrolysed keratin derived from New Zealand sheep's wool. This proven combination improves the structure and strength of the nails. It also improves the hydration and elasticity of the skin and cuticles.
Shea Butter combined with the oils of Sweet Almond, Olive, Hazelnut and Orange Peel with deeply nourish, restoring elasticity and smoothness.
Added Chamomile and Passionflower helps to calm, soothe and heal tired hands.
Other beneficial ingredients include Mango Seed Butter and Green Tea.
Includes
Manuka Honey 80+
Shea Butter
Sweet Almond Oil
Olive Oil
Hazelnut Seed Oil
Mango Butter
Chamomile Extract
Passion Flower Extract
Green Tea Extract
Free From
Paraben free. No mineral oil. Not tested on animals.
To Use
Apply as often as required on and around nails, cuticles and hands. Perfect for during the day.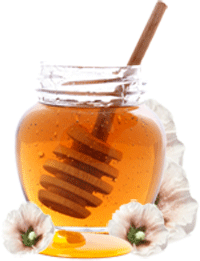 Pure New Zealand Manuka Honey
Manuka is a flowering tea tree native to New Zealand. The honey that is collected from these flowers has long been renowned for its remarkable beneficial properties.
Manuka Honey contains special antibacterial properties including an enzyme that produces Hydrogen Peroxide which is a proven antiseptic and antibacterial agent.
It is extremely rich in proteins, vitamins and minerals and has the outstanding ability to nourish, soothe and heal sensitive skin.
Manuka Honey also contains antioxidants that neutralise free radicals which are responsible for skin cell damage; while assisting in the growth of new cells, and tissue regeneration. Additionally, Manuka Honey is a natural humectant; acting to prevent loss of moisture thereby retaining the skin's natural moisture.