Manuka Honey Active Repair Eye Serum
by Wild Ferns Pure New Zealand
With premium certified Manuka Honey 80+.
With Aloe Vera, Royal Jelly & Cucumber.
99% Natural.
Description
A concentrated gentle serum formulated with premium certified Manuka Honey 80+ - scientifically proven to deliver antioxidants, proteins, vitamins and minerals that protect and nourish the skin.
Natural soothing botanical extracts brighten and firm the delicate eye area, while Royal Jelly and cell renewal Collagen provide regenerative properties to help the skin appear smoother and more youthful looking.
Other beneficial ingredients include Aloe Vera Extract, Cucumber Extract and Vitamin A, C, E.
Includes
Manuka Honey 80+
Aloe Vera
Cucumber Extract
Royal Jelly
Collagen
Eye Bright
Wheat Protein
Free From
Paraben free. No mineral oil. Not tested on animals.
To Use
Apply a small amount to your ring fingers (these have the least amount of strength).
Use a light patting motion under and around the eye area.
Press or tap but do not rub.
Apply daily.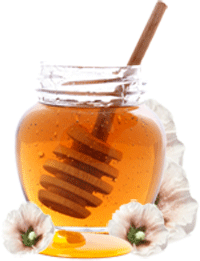 Pure New Zealand Manuka Honey
Manuka is a flowering tea tree native to New Zealand. The honey that is collected from these flowers has long been renowned for its remarkable beneficial properties.
Manuka Honey contains special antibacterial properties including an enzyme that produces Hydrogen Peroxide which is a proven antiseptic and antibacterial agent.
It is extremely rich in proteins, vitamins and minerals and has the outstanding ability to nourish, soothe and heal sensitive skin.
Manuka Honey also contains antioxidants that neutralise free radicals which are responsible for skin cell damage; while assisting in the growth of new cells, and tissue regeneration. Additionally, Manuka Honey is a natural humectant; acting to prevent loss of moisture thereby retaining the skin's natural moisture.