Footcare Cream - 10% Urea
by Ureka
Aids skin cell regeneration and dermal hydration
Keeps the feet supple
Description
Ureka is a soothing foot cream formulated for the special care of dry skin. The foot cream contains at least 10% urea in a concentrated moisturising and emollient base.
Urea is an important component of the body's natural moisturising factor (NMF) and is well known for keeping the skin revitalised, soft and supple.
To Use
Massage 1-2cm of cream into clean, dry feet 1-2 times daily. Suitable for diabetics.
Comments & Customer Reviews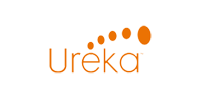 Ureka
Introducing Ureka...
a new range of footcare creams forming a complete solution to maintain healthy feet.
Formulated with the finest ingredients, Ureka is suitable to treat a variety of foot problems, luxuriously, effectively and above all, simply.offer tailor-made solutions to the most common foot skin problems.
Ureka are committed to providing very competitively priced products to maintain healthy feet.