Smart Floss
by Dr Tung's
Size:

27m roll

Ref:

TU-02

Price:

£3.60 £ 3.29 Out of Stock

Special Offer - save 9%
Stretches & cleans.
Removes up to 55% more plaque.
Comfort soft
Fresh cardamom flavour.
Description
There's no other floss quite like Smart Floss!.
It is clinically proven to remove up to 55% more plaque than regular flosses.
It stretches and expands into interdental spaces to clean better.
This high-performance floss is suitable for everyone - people with tight spaces, wider spaces...even braces.
This revolutionary floss is also gentler on gums because it is cushion-soft and can stretch. Unlike those other flosses with no spring that can often hurt gums...and fingers!
Now presented in an eco-friendly container made with EcoPure.
Colours may vary.
Benefits
Natural cardamom flavor for fresh breath.
Natural plant and bees wax coating.
Clinically proven
Removes up to 55% more plaque
Comfort soft
Expands so it's gentler on gums, softer on fingers
More surface area for superior cleaning
To Use
1. Wrap 18" (45cm) of floss around fingers & draw tight.
2. Tug & release. It expands!
3. Slide floss between teeth, curve it around tooth and clean between tooth and gum with gentle up and down motion.
4. Repeat using a clean up and down motion.
Also works with braces and wide spaces.
Comments & Customer Reviews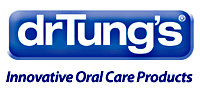 Dr Tung's
These products have grown out of a passion for bringing healthy smiles naturally. Since their small beginnings, Dr. Tung's has always been on the leading edge and they now provide innovative products for fresher breath and healthier smiles.