Hair Removal Cream - Sensitive
by Remove
Description
Ensures that you easily remove unwanted hair with its easy applicator.
Effective on all kinds of hair types; thin, thick, short or long and leaves you with a smooth and soft skin.
Benefits
Can be used for face and body areas.
Dermatologically tested.
To Use
Before using the product, read and follow all the instructions and warnings in the inner and outer package.
Make sure that your skin is dry and clean before you use the product.
Do not use the product if there is wound, irritation, any kinds of burns or dermatological problems.
Usage:
1. Open tube and spread the cream in linear lines using the spatula.
2. Keep the cream on your skin for 6 minutes then clean a small area with spatula. If all the hair is removed clean off all the cream with spatula. Do not keep the product on your skin for more than 10 minutes.
3. Rinse your skin with clean water at the end of application.
Cautions
Save the outer package of the product for user instructions and other warnings and follow all instructions and warnings.
Do not keep the cream on your skin for more than 10 minutes.
Do not use the product on irritated skinf.
Do not use, cologne, soap and alcohol based products before and after 2 hours of application.
Do not apply the product to areas shaved within 72 hours.
Consult your doctor to use during pregnancy and menstruation.
Do not rinse the product with hot water.
Do not let the product contact your mouth or eyes. Wash with plenty of water in case of contact.
Keep in room temperature, away from sun light, keep out of reach of children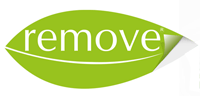 Remove
Natural Hair Removal Products.
Paraben, sugar & mineral oil free.
Remove, approaches depilation in 3 phases: 'Preparation before depilation', 'depilation' and 'after depilation'.
It is an innovative range produced from beeswax .