Ready To Use Wax Strips - Sensitive
by Remove
| | |
| --- | --- |
| Size: | 52 Piece Maxi Set |
| Ref: | RM-RE01 |
| Price: | £ 9.99 Out of Stock |
Description
Regardless of your skin type Remove Cold Wax Strips ensure that you have a soft and smooth skin for up to 4 weeks.
Strips come in 3 different types for either "thick and dense hair", "normal hair" and "sensitive skin" and are shaped in 4 different sizes for body, face, underarms and bikini area.
A safe and more relaxed waxing experience thanks to the formula created from natural herbal oils.
Suitable for:
Thick and Dense Hair
Normal Hair
Sensitive Skin
Box Contains
20 Cold Wax Strips for Body
8 Cold Wax Strips for Face
8 Cold Wax Strips for Underarms
8 Cold Wax Strips for Bikini Area
4 Pain-less Pre Wax Preparation Wipes
4 Remove After Wax Cleaning Wipes
Wax Includes
Sunflower Oil
Beeswax
Free From
Rosin resin, paraben, mineral oils and sugar.
Dermatologically tested.
To Use
1. Wipe Pain-less Pre-Wax Preparation Wipe to the area you will apply wax, and leave 10 minutes.
After ensuring that the solution is completely absorbed, dry your skin.
2. Rub Remove Cold Wax Strips between your hands so that you can easily open them. Carefully peel wax strips away.
Firmly stick in the direction of hair growth and ensure that all bubbles are removed.

3. Pull the strips in one motion in the opposite direction of hair growth and parallel to your skin.
4. After waxing, clean skin with Remove After Wax Cleaning Wipe.
Cautions
Read and follow all the user instructions and warnings on the package before using the product.
If you are taking medicine affecting your skin or have a skin disease, consult your doctor before using.
Wax is not suitable for diabetics or the elderly.
Do not use the product on the skins with varicose veins, cracks, irritation, sun burn, open wounds. Do not use on skins which showed allergic reaction to wax in the past.
Do not use the product for other purposes than depilation.
Keep the product i a dry and cool place, out of the reach of children.
Before using deodorant or perfume on your skin or sunbathing, wait for 24 for hours after the application.
Do not scratch your skin after wax application, otherwise your skin may be irritated.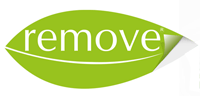 Remove
Natural Hair Removal Products.
Paraben, sugar & mineral oil free.
Remove, approaches depilation in 3 phases: 'Preparation before depilation', 'depilation' and 'after depilation'.
It is an innovative range produced from beeswax .