Patisserie de Bain Cosmetic Bag
by Patisserie De Bain
Description
A pretty waterproof quilted bag.
Roomy enough to hold all your travel essentials or cosmetics and with an inside zipped pocket and blue silk lining.
Bag size - 19cm wide x 7cm deep x 12cm high
Comments & Customer Reviews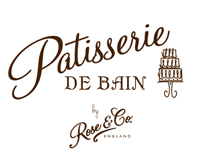 Patisserie De Bain
Nostalgic products.
Inspired by French patisseries and cafes.
Inspired by colourful French patisseries and traditional sweet shop sweets, the Patisserie de Bain product range is an enchanting blend of styles, colours and sweet fragrances.

Enriched with cocoa butter, shea butter and essential oils and fragrances.