Zam-Buk Herbal Ointment (tube)
by Zam-Buk
Soothing & protective.
Always keep a tube handy.
The great Zam-Buk formula in a soothing ointment.
Description
Rediscover Zam-Buk, the Victorian classic antiseptic ointment with amazing soothing powers for cuts, sores, bruises, blisters, burns, chapped skin, rashes and many more ailments.
Zam-Buk was famously endorsed by the one and only Harry Houdini to help soothe his sore wrists after his escapology feats. With its antiseptic properties, Zam-Buk is a must-have for any adventure.
The amazing Zam-Buk formulation is now in a brand new creamy ointment. Perfect for use on larger areas and for those who don't like the "greasy" feel of an embrocation, but with all the herbal goodness of the original.
Benefits
To help soothe cuts, sores, bruises, sprains, chilblains, insect bites and many more ailments.
First aid in a tin - your medicine cabinet, handbag and suitcase shouldn't be without it.
Includes
Eucalyptus Oil, Camphor Oil, Beeswax and Thyme Oil
Free From
Parabens, Petrolatum, Fragrance.
To Use
Apply as required.
Comments & Customer Reviews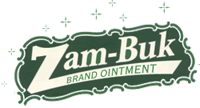 Zam-Buk
The great herbal embrocation.
Always keep a tin handy.
Zam-Buk is a highly acclaimed traditional embrocation with a multitude of uses.
Zam-Buk first appeared on chemists shelves in Great Britain in 1903 in a time before antibiotics, and was an important first–aid medicine for any cuts or abrasions of the skin preventing infection.
Take a step back into the Victorian era and Zam-Buk was every where, painted on the side of buildings, in newspaper adverts and dotted around households in the UK.