Zam-Buk Herbal Soap
by Zam-Buk
| | |
| --- | --- |
| Size: | 85g bar |
| Ref: | RC-101 |
| Price: | £ 4.99 Out of Stock |
| Due: | July |
Description
The great Zam-Buk formula in a therapeutic, soothing herbal soap.
Zam-Buk is a miracle antiseptic ointment used for centuries to help soothe cuts, sores, bruises, sprains, chilblains, insect bites and many more ailments.
Now the same wonderful formula is available as a soothing & protective herbal soap.
Hand-made in Yorkshire (just like Zam-Buk) this soap contains the same wonder-formula as the ointment and is hand-wrapped in a charming old-fashioned paper wrapper.
Includes
Eucalyptus Oil
Pine Oil
Thyme Oil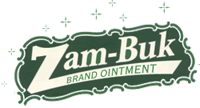 Zam-Buk
The great herbal embrocation.
Always keep a tin handy.
Zam-Buk is a highly acclaimed traditional embrocation with a multitude of uses.
Zam-Buk first appeared on chemists shelves in Great Britain in 1903 in a time before antibiotics, and was an important first–aid medicine for any cuts or abrasions of the skin preventing infection.
Take a step back into the Victorian era and Zam-Buk was every where, painted on the side of buildings, in newspaper adverts and dotted around households in the UK.