Cafe Paris Tartlette Duo
by Patisserie De Bain
2 pretty hand made bath tartlettes
Description
Patisserie de Bain Café Paris Tarlettes look as if they're straight from the bakeries of Paris but they are definitely not to be eaten. Containing two hand-made rose and voilet bath tarlettes, each set is in a beautifully designed sliding box.
Gently moisturises the skin with super-moisturising cocoa and shea butters.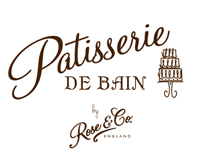 Patisserie De Bain
Nostalgic products.
Inspired by French patisseries and cafes.
Inspired by colourful French patisseries and traditional sweet shop sweets, the Patisserie de Bain product range is an enchanting blend of styles, colours and sweet fragrances.

Enriched with cocoa butter, shea butter and essential oils and fragrances.