Rescue Me - All Purpose Soothing Gel
by Apicare
| | |
| --- | --- |
| Size: | 90g tube |
| Ref: | PC-MO15 |
| Price: | £ 14.00 Out of Stock |
With manuka honey & aloe vera.
Relieves sunburn.
Soothes insect bites and minor burns.
Soothes irritated skin.
Description
An absolute essential for every first aid cabinet.

This all purpose gel soothes irritated skin, areas of chaffing and relieves sunburn, insect bites and minor burns. This great product contains 75% Aloe Vera blended with UMF 15+ Manuka Honey, vegetable glycerin and vitamin E to create a truly soothing formulation.
Also included are the essential oils of chamomile, tea tree & lavender to soothe with peppermint oil to cool.
This fabulous natural product is suitable for use on all members of the family.
Aloe Vera
Aloe Vera - has long been considered an effective soothing and healing ingredient for the treatment of burns and skin injuries. It has antibacterial, antifungal and antiviral compounds that help prevent wound infections and assist with wound healing. In addition it contains immune-stimulating and anti-inflammatory compounds.
Includes
Aloe Vera leaf extract
Manuka Honey
Tea Tree oil
Peppermint oil
Lavender oil
Chamomile oil
Benefits
Helps take the sting out of minor burns and sunburn.
Helps relieve red, irritated skin and soothes itching.
Perfect for use after shaving and waxing.
Very high percentages of aloe vera, UMF manuka honey and vegetable glycerin - allows it to hydrate the skin as well as soothe.
Free From
Petrochemicals. Parabens. Artificial Colour. Artificial Fragrance.
To Use
Suitable for everyday use or as required for relief and skin repair.
About Manuka Honey
Some Manuka Honey has a 'Unique Manuka Factor' (UMF) which refers to its non-peroxide level of antibacterial activity. This factor provides an additional potent anti-bacterial action on top of the usual antibacterial abilities of all honeys. It has also been shown to diffuse deeper into skin tissues.
Manuka Honey is tested for its level of non-peroxide activity and issued with a number. So a rating of 10 indicates the same level of antiseptic potency of a 10% solution of Phenol (Carbolic Disinfectant). The higher the rating, the higher the activity level is, and therefore the greater the healing ability.
In addition to its antibacterial abilities Manuka honey has been shown to be deeply penetrating and hygroscopic (attracts moisture to it), and therefore, very hydrating.

It has anti-fungal and anti-inflammatory properties and has demonstrated the ability to accelerate tissue repair, aiding in skin repair and the reduction of scarring.
Comments & Customer Reviews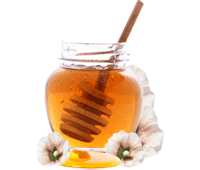 Manuka Honey with Royal Jelly
With UMF 16+ Active Manuka Honey
A range of problem solving, skin soothing products formulated with UMF 16+ Active Manuka Honey to nourish, soothe and hydrate.
The Apicare range is made with Active Manuka honey. While all honeys exhibit natural antibacterial properties, Active Manuka honey from New Zealand offers 30 to 100 times the antibacterial and antimicrobial properties of any other honey. Apicare Healing Honey Skin Care incorporates this incredible healing property into a natural blend of soothing herbal extracts and oils.
Manuka Honey is gathered in New Zealand from the Manuka bush, Leptospermum scoparium, which grows uncultivated throughout the country.