Soap Free Cleansing Bar
by Hope's Relief
Therapeutic skincare.
For itchy, dry or sensitive skin.
Restores normal pH balance of the skin.
Description
Formulated to cleanse and moisturise without irritating your skin.
A soap free alternative that restores normal pH balance of the skin.
Includes
3 active natural ingredients:
Calendula.
Manuka Honey.
Aloe vera.
Free From
100% fragrance free.
100% colour free.
Propylene glycol.
Lanolin free.
Alkaline free.
Hypo-allergenic.
Petrochemicals.
Mineral oil.
Coal Tar.
Sulfates.
Benefits
3 in 1
Moisturises to soften dry skin.
Soothes ideal for irritated skin.
Regenerates leaves skin feeling soft and supple.
Biodegradable.
To Use
Wet skin and use cleansing bar normally.
Rinse, pat skin gently to dry.
Use every wash instead of soap.
Suitable For
Suitable for use with eczema, psoriasis, dermatitis, dry itchy skin and sensitive skin conditions.
Gentle enough to use on the face and bodies of babies, infants, children and adults.
Related Products
The Hopes Relief Cleansing Bar is an integral part of the Hopes Relief Therapeutic Skincare range.
The Cleansing Bar has been formulated to work with the Hopes Relief Therapeutic Cream. To obtain maximum benefits for your skin it is recommended that they are used together.
Comments & Customer Reviews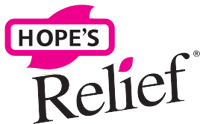 Hope's Relief
Therapeutic Skincare Treatment Range.
To help with dry skin conditions including eczema, psoriasis, dermatitis, itchy and sensitive skin.
Hope's relief cream was developed in response to the need for a natural effective alternative for relieving the symptoms of dry, itchy skin in children, babies, and adults.
The remarkable results have led to grateful testimonials from around the world.

Hope's Relief offer effective natural alternatives to other steroid based creams and lotions and can be used on babies, young children and adults for extended periods of time with no side effects.

The products are created from potent natural healing ingredients, free from artificial colours, perfumes and animal products.
They contains licorice, calendula, Manuka honey, aloe vera, and gotu kola, natural and organic ingredients.