Organii Sun Milk - SPF 50
by Organii
High Protection.
Suitable for babies, children & adults.
Certified Organic.
Description
The perfect sun protection for the whole family.
This SPF 50 fragrance free natural and organic mineral Sun Milk will protect the most delicate skin from the harsh rays of the sun, making it suitable for the whole family to enjoy.
It blends effortlessly and is quickly absorbed, leaving more time for fun in the sun and less time waiting for the product to dry.
The high protection formula has a fluid consistency meaning there is no whiteness or residue on the skin after application, protecting your skin from the UVB & UVA rays naturally and safely.
Contains skin nourishing and moisturising extracts of Olive Fruit, Jojoba, Sunflower and Argan Oils to keep skin soft and supple while enjoying the sun whilst Pongamol protects your skin from UVA and UVB rays.
This is also the ideal sun protection for those with fair skin or those more susceptible to burning. Hello protected skin, goodbye lobster legs!
Benefits
UVA & UVB Protection
Effective immediately

Water Resistant
Suitable for sensitive skin
Suitable for vegans
Nickel Tested

Dermatologically Tested
Certified by ICEA
Includes
Olive Oil
Rice Bran Oil
Flax Seed Oil
Jojoba Oil
Argan Oil
Calendula Extract
Mallow Extract
Free From
Fragrance
Parabens
Colourings
To Use
Apply generously massaging into the skin and reapply frequently especially after swimming or sweating.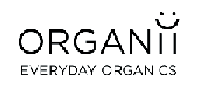 Organii
Natural and Organic Products certified by ECOCERT, ICEA and GOTS.
Nickel Tested.
Vegan.
Organii's mission is to offer the consumer good value products with high integrity.
Products are sourced from similarly minded, ethical manufacturers who share the passion for all things natural and organic.
Organii products must meet selected criteria including; effective formulas, value for money, products suitable for the whole family while looking good in any bathroom.
They also need to be certified natural and organic with conscientious packaging.