Vitamin D3 Drops - 4000 IU
by Natures Answer
In Extra Virgin Olive Oil.
240 servings.
Description
Vitamin D is called the "Sunshine Vitamin" because it is produced naturally by the body after exposure to 20 min - 1/2 hour of sunlight.
Many people develop deficiencies due to lack of sun exposure, living in cold climates, and other reasons.
Vitamin D is most well known for its contribution to joint and bone health by helping the body absorb calcium.
It is especially important to maintain adequate Vitamin D levels in children, as we age, and when we are under stress.
Includes
Extra virgin olive oil, medium chain triglycerides.
Free From
Salt-free, wheat-free, corn-free, yeast-free, sugar-free, milk-free, preservative-free, fish-free.
To Use
As a dietary supplement take two drops daily or as directed by your healthcare practitioner.
May be mixed with food or liquids.
Hold bottle upside down & allow drops to flow out.
Keep out of reach of children. Not for use by children under 3 yrs. of age.
Do not use if safety seal is damaged or missing.
If pregnant, nursing or on medication, consult with your healthcare practitioner.
Supplement Facts
Supplement Facts:
Serving Size: 2 drops
Servings Per Container: 240
Amount Per Serving Calories from Fat 10% Daily Value*
Total Fat< 1 g <2% Daily Value*
Vitamin D3 (as cholecalciferol)** 4000IU 1000%Daily Value*
*Percent Daily Values are based on a 2,000 calorie diet
**Sourced from Lanolin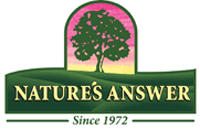 Natures Answer
Advanced Botanical Fingerprint Technology.
Sourcing the Finest Herbs.
Nature's Answer combine the best of traditional herbal remedies, vitamins and minerals with innovative scientific techniques and phytopharmaceutical manufacturing, to deliver supplements of the finest quality and value for the entire family.