Liquid Co-Q10
by Natures Answer
Size:

120ml bottle

Ref:

NS-471

Price:

£18.99 £ 16.15 Out of Stock

Special Offer - save 15%
With Vitamins C & E.
Dietary Supplement.
With Natural Tangerine Flavour
With Quik-Sorb.
Description
Co-Q10, an antioxidant, plays a key role in supporting heart health. It also acts as a "spark plug" for the cells, helping the body produce energy. Liquid Co-Q10 is combined with Rice Bran Oil to improve absorption.
Coenzyme Q10 is an important substance required for the function of many organs in the body. It helps provide energy to cells and seems to have antioxidant activity
Quick-Sorb is an exclusive blend of herbs known to enhance delivery of nutrients to the body.
To Use
As a dietary supplement take one (1) Teaspoon (5mL) daily, or as directed by your healthcare practitioner.
May be mixed with water or food.
Shake well before use.
Refrigerate after opening.
Cautions
Keep out of reach of children.
Do not use if safety seal is damaged or missing.
If pregnant, nursing or on prescription medication, consult with your healthcare practitioner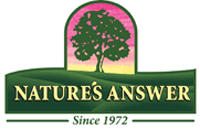 Natures Answer
Advanced Botanical Fingerprint Technology.
Sourcing the Finest Herbs.
Nature's Answer combine the best of traditional herbal remedies, vitamins and minerals with innovative scientific techniques and phytopharmaceutical manufacturing, to deliver supplements of the finest quality and value for the entire family.