Turmeric-3
by Natures Answer
Supports healthy joint function.
Advanced Botanical Fingerprint Technology.
Exclusively from Turmeric Rhizome.
Description
Turmeric-3, comes from the Turmeric plant, a perennial in the ginger family. The Turmeric plant possesses wonderful properties that have been known for years. Nature's Answer brings its benefits to you in this powerful concentration.
Turmeric-3 is completely alcohol free. It provides the most important active constituents:* Curcumin, Demethoxycurcumin, and Biodesmethoxycurcumin to support healthy joint function.*
Benefits
Supports Healthy Joint Function*
Contains the Most Important Active Turmeric Constituents
Made from 5,000 mg of Dried Turmeric Rhizome
Holistically Balanced
Alcohol Free
Gluten Free
To Use
Serving Size: 1 ml (approx. 28 drops)
Shake well before use.
As a dietary supplement, take 1 ml (28 drops) one (1) to three (3) times a day in a small amount of water with food.
Cautions
Keep out of reach of children.
Do not use if safety seal is damaged or missing.
If you are pregnant, nursing, taking any medications, planning any medical procedure or have a medical condition, consult with your healthcare practitioner before use
Additional
The Nature's Answer Unique Bio-Chelation process.
Only Nature's Answer uses a unique Bio-Chelation process, developed by the company's founder and owner. It includes "cold extraction." Cold extraction, allows the raw plant materials to be extracted without being exposed to heat, capturing and preserving the holistic balance of the Tumeric.
The Added Assurance of Nature's Answer "Advanced Botanical Fingerprint" Technology™
Nature's Answer Advanced Botanical Fingerprint Technology™ assures you of the quality of the botanical ingredients in every Nature's Answer product. By creating one of the most comprehensive collections of plant specimens in the world and identifying each plant's distinctive botanical fingerprint, Nature's Answer can compare and analyze the quality and purity of every incoming botanical used to formulate their products, assuring you of products that contain only the purest, highest-quality botanical ingredients.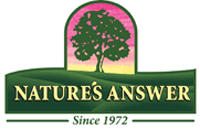 Natures Answer
Advanced Botanical Fingerprint Technology.
Sourcing the Finest Herbs.
Nature's Answer combine the best of traditional herbal remedies, vitamins and minerals with innovative scientific techniques and phytopharmaceutical manufacturing, to deliver supplements of the finest quality and value for the entire family.