Oil of Oregano
by Natures Answer
Advanced Botanical Fingerprint
Wild Mediterranean Origanum Vulgare.
Alcohol Free.
Description
Oil of Oregano Leaf comes from the Oregano herb, also known as Origanum Vulgare, a herb from the mint family.The name actually means "mountain of joy."
The health benefits of this amazing herb were recognized as far back as ancient Greece. According to Greek mythology oregano was created by the goddess Aphrodite as a symbol of happiness. It is also believed that it was used frequently by Hippocrates for its healthy attributes.
After the Romans conquered Greece, they inherited the use of oregano and they were the ones responsible for the extensive use of oregano all over Europe and abroad. Over time, the use of oregano spread to the Middle East and to China. In China, oregano was used exclusively for health purposes. Oregano became more popular in the United States after World War II.
Oil of Oregano supports intestinal and digestive health and promotes overall good health and wellbeing.*
Benefits
Promotes Overall Good Health and Well Being
Supports Intestinal & Digestive Health
Promotes a Healthy Immune System
Holistically Balanced
Bio-Chelated Cold Extraction Process
Free From
Gluten Free
Alcohol Free
To Use
Serving Size: 4 drops (approx. 0.17 mL)
As a dietary supplement take 4 drops (0.17 mL) three (3) times a day in a small amount of water. External Suggested Use: Apply liberally three (3) times per day.
Shake well.
Cautions
*Keep out of reach of children
*Do not use if pregnant or nursing
*Do not use if safety seal is damaged or missing
Additional
The Added Assurance of Nature's Answer "Advanced Botanical Fingerprint" Technology
Nature's Answer Advanced Botanical Fingerprint Technology™ assures you of the quality of the botanical ingredients in every Nature's Answer product. By creating one of the most comprehensive collections of plant specimens in the world and identifying each plant's distinctive botanical fingerprint, Nature's Answer can compare and analyze the quality and purity of every incoming botanical used to formulate their products.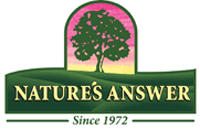 Natures Answer
Advanced Botanical Fingerprint Technology.
Sourcing the Finest Herbs.
Nature's Answer combine the best of traditional herbal remedies, vitamins and minerals with innovative scientific techniques and phytopharmaceutical manufacturing, to deliver supplements of the finest quality and value for the entire family.