Echinacea Liquid Extract
by Natures Answer
Supports a healthy immune system.
Super Concentrated 1000 mg.
Bio-Chelated Cold Extraction Process.
Alcohol Free.
Description
A traditional herbal remedy for the symptomatic relief of coughs, colds and influenza type infections and similar upper respiratory tract conditions.
Echinacea has been used for generations for the relief of respiratory tract conditions. It may help to stimulate the immune system helping the body to naturally fight infection.
To Use
As a dietary supplement take 1 mL (28 drops) three (3) times a day in a small amount of water. May double the frequency for 2 days maximum.
Do not use if pregnant or nursing.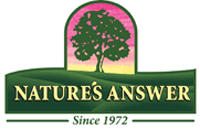 Natures Answer
Advanced Botanical Fingerprint Technology.
Sourcing the Finest Herbs.
Nature's Answer combine the best of traditional herbal remedies, vitamins and minerals with innovative scientific techniques and phytopharmaceutical manufacturing, to deliver supplements of the finest quality and value for the entire family.