Baby Clever Chickweed Cooling Cream
by Napiers
| | |
| --- | --- |
| Size: | 100ml tube |
| Ref: | NP-729 |
| Price: | Sold Out |
Sorry, this product is no longer available.
Baby Napiers - tried, tested & trusted.
A calming barrier cream for delicate babies bottoms.
Perfect for adults with highly sensitive skin.
With cooling Chickweed.
Description
A calming barrier cream for delicate, baby bottoms with cooling Chickweed and a fantastic all over moisturiser for anyone with incredibly sensitive skin.
Some skin is irritated by even natural compounds like chamomile, and this natural non-allergenic Chickweed Cream is often the only cream that can be tolerated.
This cooling calming Chickweed Cream helps to soothe and moisturise hot, dry, itchy skin.
The Napiers herbalists who specialise in infants found there was a great demand for a very gentle, non-irritant cream that would help to calm and soothe hot, itchy skin quickly.
Includes
Chickweed Stellaria¬Sweet Almond Oil¬Coconut Oil
Free From
Parabens¬Mineral Oil¬Artificial Colour¬Artificial Fragrance
Benefits
Baby Napiers Chickweed Cooling Cream is suitable for both babies and adults with the most highly sensitive skin.¬ Moisturises dry skin.¬ Cools and calms hot, itchy skin.¬ Used as a non-irritating moisturiser for infants and adults alike who suffer with sensitive skin (such as those prone to eczema and dermatitis).¬ Extremely gentle and is suitable for newborns.
This ever so soothing unfragranced chickweed cream is now packaged in a convenient 100ml tube.
To Use
Apply two or three times daily or as often as required to sensitive skin areas.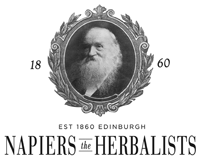 Napiers
Herbal health care.
Caring for you since 1860.
Napiers are a leading force in complementary and natural health care and are dedicated to providing the best of health and wellbeing through the use of herbal and natural therapies.