Foot Recovery Cream
by Napiers
Cooling, revitalising tired foot cream.
With moisturising Coconut & Jojoba Oils.
Plus Comfrey, Chickweed, Chamomile and cooling Peppermint Oil.
Description
Designed for when you have been on your feet all day long this cooling cream rescues hot, dry achy feet and ankles!
It moisturises your poor, tired feet with soothing chamomile, cooling chickweed, and calming comfrey extracts.
Lavender oil and calendula also help to keep feet in a tip-top healthy condition while tingly peppermint oil is cooling, stimulating and rejuvenating.
Includes
Sweet Almond Oil.¬ Coconut Oil.¬ Jojoba Oil.¬ Marigold.¬ Chickweed.¬ Comfrey.¬ Chamomile.¬ Lavender.¬ Peppermint.
Free From
Parabens.¬Mineral oil.¬Artificial Fragrance.¬Colour.
To Use
Massage liberally into feet and ankles using small circular strokes to ease tension away, starting from the toes and moving towards the ankles.¬Rotate the ankles and feet. Then knead the soles of your feeet to relieve pressure before finishing with firm, sweeping strokes.¬Now put your feet up and relax..
Additional Information
Herbal Skin Care is a range of skincare products developed by Dee Atkinson, Medical Herbalist of Napiers the Herbalists and Amanda Hamilton, Nutritionist and Detox Specialist.¬ Over the last 18 months Amanda and Dee have researched and tested a combination of pure ingredients that work beneficially on the skin to create this range. The range is made in the UK, using mainly British and European ingredients grown under organic standards. All the products are carefully formulated to meet Soil Association or Ecocert organic certification, being both environmentally responsible and kind and gentle to the skin. And the therapeutic properties of each carefully considered ingredient give each product an efficacy that will help to maintain skin in absolutely top condition.
Comments & Customer Reviews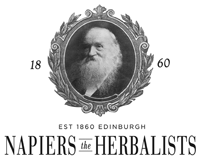 Napiers
Herbal health care.
Caring for you since 1860.
Napiers are a leading force in complementary and natural health care and are dedicated to providing the best of health and wellbeing through the use of herbal and natural therapies.