Herbal Starflower Skin Cream
by Napiers
Sensitive dry skin cream.
For very sensitive skin.
With Starflower, Chamomile and Chickweed.
Now presented in a jar
Description
A bestselling emollient creams, Starflower Cream is moisturising and calming.
Contains natural, active herbal extracts like Borage seed oil, naturally high in GLA, an important Omega-6 fatty acid needed for healthy skin cell walls. Without GLA, your skin cells can't keep enough moisture in - resulting in dry, itchy skin.
Borage oil penetrates the skin, delivering GLA benefits directly to your skin cells, helping your skin to stay moisturised and healthy.
Benefits
Moisturises and soothes dry, itchy skin
Cools and calms hot, reddened, irritated skin
Used as an extremely gentle, non-irritating moisturiser by people with sensitive skin (such as those prone to eczema and dermatitis)
Popular with hairdressers, mechanics, nurses and other people exposed to drying, irritating chemicals in their work or constant hand washing
High in natural gamma-linoleic fatty acid (GLA) needed for healthy skin
Includes
Starflower Borago officinalis seed oil
Chamomile Matricaria recutita extract and oil
Chickweed Stellaria media extract
Sweet almond oil
Free From
Parabens.
Mineral oil.
Artificial Colour.
Fragrance.
To Use
Apply as often as required to dry areas.
Plant extracts cause few side effects however if you are pregnant or breastfeeding and you are unsure if you need to take extra care, please speak to your healthcare practitioner, before using this product.
About Borage Oil
Borage oil, extracted from the seeds of Starflower herb, is a natural source of gamma-Linolenic Acid (GLA), an important Omega-6 fatty acid needed for healthy skin cell walls. Without sufficient GLA, cells can't retain enough moisture, resulting in dry skin and other chronic skin problems.
Moisturisers are an effective first-line treatment to decrease symptoms of eczema and reduce the need to use steroids.
Comments & Customer Reviews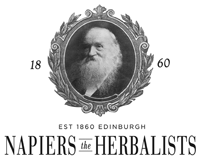 Napiers
Herbal health care.
Caring for you since 1860.
Napiers are a leading force in complementary and natural health care and are dedicated to providing the best of health and wellbeing through the use of herbal and natural therapies.