Organic Catnip Mouse
by Napiers
| | |
| --- | --- |
| Ref: | NP-114 |
| Price: | £ 4.50 Out of Stock |
Treat your cat to this toy!
Hours of fun for your cat and hours of amusement for you!
Description
Filled with organic catnip, Nepeta cataria, the scent has a pleasant, and highly stimulating effect on cats.
When cats smell catnip, they roll on the toy, paw at it, chew it, lick it, toss it, leap about and purr, often salivating. The cats love and enjoy playing with the toys and it provides hilarious amusement for the owner too!
Includes
Organic Nepeta cataria (Catnip, True Catnip, Catmint or Field Balm) is a 50-100 cm tall herb resembling mint in appearance, with greyish-green leaves. The flowers are white, finely spotted with purple.
Free From
At Napiers, they only use fresh, dried, organic catnip and the hand-sewn cotton mice are safe for your cat as well as pretty.
Please note that Catnip Mice come in various patterns and colours and the one in the picture may not be the same as the one you receive.
Made in Britain, each one is hand sewn and stuffed with tested catnip.
To Use
Take off the wrapper and give to your beloved cat!
After about ten minutes your cat's interest will start to wane. Take the toy away to give it a break from the smell and stimulus.
It takes around two hours for the cat to gain interest again, after which it can come back to the catnip and have the same response as before.
Young kittens and elderly cats may be less likely to react to catnip with quite such exuberance but will still enjoy the toy!
Comments & Customer Reviews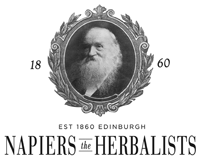 Napiers
Herbal health care.
Caring for you since 1860.
Napiers are a leading force in complementary and natural health care and are dedicated to providing the best of health and wellbeing through the use of herbal and natural therapies.