Arnica Plus Emergency Skin Cream
by Napiers
With Witch Hazel and Comfrey
For bruises, knocks and inflamed joints
Made in the UK
Description
This light cream is easily absorbed and combines Arnica with Witch Hazel to reduce swelling and comfrey to improve healing.
Arnica is ideal for soothing bruises, strains aches and pains including bumps and knocks one may get from sports or outdoor activities.
Useful for the whole family.
Benefits
Excellent skin cream for active people.
Can also be used as a joint or muscle rub.
Includes
Sweet almond oil
Witch hazel
Arnica
Comfrey
Free From
Parabens
Mineral Oil
Colourants
Fragrance
To Use
Use several times a day, as required. Gently massage into troublesome areas.
Caution
Plant extracts cause few side effects however if you are pregnant or breastfeeding and you are unsure if you need to take extra care, please consult your healthcare practitioner, before using this product.
Comments & Customer Reviews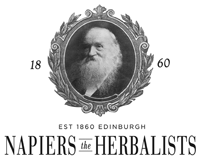 Napiers
Herbal health care.
Caring for you since 1860.
Napiers are a leading force in complementary and natural health care and are dedicated to providing the best of health and wellbeing through the use of herbal and natural therapies.