Special Skin Care Collection
by Martha Hill
Size:

4 x 50ml jars + bag

Ref:

MH-SC4

Price:

£40.60 £ 24.35 Out of Stock

Special Offer - save 40%
Four products to combat the effects of climate, pollution & stress.
4 x 50ml jars.
Description
A collection of four essential skin care products to help combat the drying effects of climate, central heating and stress. They help maintain and restore a healthy, glowing complexion.
These four products to help minimise the appearance of fine lines, restore an even skin tone, nourish and moisturise both face and neck.
The perfect gift or a special treat and presented in a pretty floral jute gift bag..
Set Includes
Intensive 24 Hour Moisturiser - this lightly fragrant cream melts into the skin. Enriched with sweet almond, jojoba and rosehip oils.
Hydro Cream for throat and neck - formulated to be absorbed rapidly, it is ideal for daytime use and will help maintain firm, supple skin, improving tone and texture, and thus reducing the risk of premature lines and skin slackening.
White Mulberry Light & Bright Vanishing Cream - light cream helps brighten your complexion and over time reduces the appearance of dark spots. Natural skin-lightening ingredients help fade freckles, age spots, sun damage and uneven skin tone helping to brighten and smooth the skin's surface.
Blackcurrant Five Minute Mask - a rich, skin nourishing treatment to help rehydrate, moisturise and revive. With sesame oil, honey and camomile.
Jute Flower Print Bag - perfect for presenting presents for friends and family and accessories. Bag Size: 15cm (H) x 15cm (W) x 15cm (D)
Free From
Parabens, mineral oil, colourants.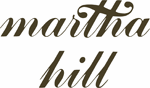 Martha Hill
Serious herbal skin care for over 40 years.
With the original range formulated in the late 1960's Martha Hill was well ahead of her time in producing a range of skincare products based on the purest natural ingredients.
All Martha Hill products are formulated to react to your skin's daily needs. They are finely balanced to ensure that your skin receives the care it deserves. Based on a carefully researched combination of the finest natural oils and extracts they are designed to cleanse, tone, moisturise and nourish: the four essential steps to a healthy, glowing complexion.