Life-flo Aloe Vera Oil with Vitamins C & E
---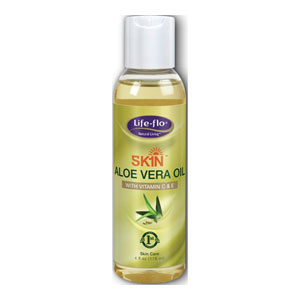 Life-flo
Aloe Vera Oil with Vitamins C & E
118ml bottle
Discountined, no longer available.
Catalog ref: LF-271
Key Info
For all skin types.
For face, hands and body.
Description
Aloe Vera Oil is rich and nourishing and can be used day or night on skin all over the body.
Formulated with Vitamin E and C in a natural coconut oil base to help soothe, cool, and soften skin.
Benefits
Rich and nourishing formula to soothe skin.
Formulated with Vitamin C and E in a natural coconut base.
Can be used all over the body on all skin types.
Helps cool and soften skin.
Includes
Aloe Vera Oil
Calendula Extract
Bergamot Oil
Vitamins C & E
Free From
Parabens, petrochemicals, colourants and fragrance.
To Use
Apply to skin on your face, hands, and body as often as desired. Reapply as needed.
Ingredients
---
Product Comments & Customer Reviews
Life-flo - Aloe Vera Oil with Vitamins C & E
" Both my husband and I suffer from psoriasis. This product is just brilliant. It has softened up a hard patch on my husband's leg and made a real difference. It's so nice to have found something natural after years of using chemical based products. " FK, Waterlooville
" It is really good. Excellent for my husbands psoriasis on his legs. Better than what Doctors give. Really works. " FK, Waterlooville