Spring All-Purpose Household Cleaner
by Maison Belle
| | |
| --- | --- |
| Size: | 500ml spray bottle |
| Ref: | IS-4009 |
| Price: | £ 5.40 Out of Stock |
Description
This effective, non-toxic household cleaner can be used throughout the house to clean walls, floors, doors, ceilings, cabinets, lawn and patio furniture, toys, tiles, taps, sinks and bathtubs.
Scented only with essential oils, this special formula leaves your house smelling naturally fresh and clean.
Free From
Phosphates¬Ammonia¬Biodegradeable.
To Use
Use on Ceramics, Marble, Enamel, Steel, Stone, Glass, Plastic, Linoleum, Vinyl and Painted Surfaces.
Shake the bottle before use.
Spray on the surface in need of cleaning. Wipe with a damp cloth - no need to rinse. If the surface is very dirty, let it work for 5 minutes and scrub with a sponge scrubber before wiping.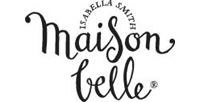 Maison Belle.
Natural Cleaning Products.
Created by Isabella Smith Apothecary.
Incredibly efficient, natural, biodegradable household cleansers. Scented only with special blends of Essential Oils to leave a wonderfully fresh, natural fragrance all around your home.
Safe around children and pets and presented in 100% recyclable plastic bottles.
Free from Phosphates, Bleach and Ammonia.