Hair Repair Heatcare Protector
by Hairwonder
Prevents heat damage.
All hair types.
Strengthens the & provides superior shine.
Phytokeratin & provitamin B5.
Enriched with 8 certified organic ingredients.
Description
Protects the hair against the heat of a blow-dryer, curling iron or other styling tools. By forming a protective film around the hair heat-activated proteins help to prevent dryness, split ends and frizzy hair. Strengthens the hair, hydrates and adds shine.
Includes
ProVitamin B5
Senna (colourless henna) leaf extract
Matricaria flower extract
Rosemary leaf extract
Lemon Balm leaf extract
Hops extract
Green Tea leaf extract
Ginseng root extract
Rooibos leaf extract
To Use
Spray generously on towel dry hair before using heat-styling tools.
Advice
Use in combination with Hairwonder Hair Repair Shampoo and Hair Repair Conditioner.
How It Works
Forms a protective film around the hair to protect against damage from heat.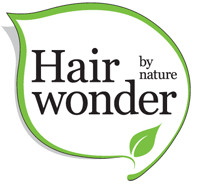 Hairwonder by nature
The secret to healthy hair!
Hair specialist since 1985.
Hairwonder makes your hair stronger. Besides the certified organic ingredients we also add a unique combination of Phytokeratin and Provitamin B5 to each Hairwonder product.
Scientific research has proven that Phytokeratin and Provitamin B5 make the hair stronger, hydrate and provide superior shine.
Most Hairwonder products are Paraben free. The range is not tested on animals. Innovations that contribute to a sustainable way of life and health.