Chocolate Hand Made Soap
by Faith In Nature
Description
This luxurious blend of cocoa is infused with vanilla to nourish your senses.
Includes
Cocoa extract¬Vanilla fruit extract
Free From
No articial colour, fragrance, preservatives or whitener. Biodegradable.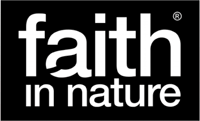 Chocolate Range
Natural products.
Made in the UK.
The plants that Faith In Nature use in their products smell wonderful, but that's not the only reason they use them. They have an unwavering belief in their power, and each one has been chosen for its healing qualities – resulting in products that work just as nature intended.