Talc & Soap Medley - Wild Tulip
by Floral Bouquet
Fragrant Talc + Triple Milled Soap
Three fragrances: Wild Tulip, Daffodil Flower and Magnolia Blossom.
Description
Floral Bouquet Talc & Soap Medley is a gorgeous gift set perfect for someone who deserves to feel truly pampered.
Containing a luxury triple milled soap and a delicately fragranced talcum powder in your choice of three fragrances: Wild Tulip, Daffodil Flower and Magnolia Blossom.
Each triple milled bar of soap contains nourishing shea butter and comes in a cute floral tin adorned with the Floral Bouquet design.
Gift Box Includes
150g - Luxury Triple Milled Soap in a Tin
100g - Silky Smooth Talcum Powder
Chhose from Wild Tulip, Daffodil Flower, MAgnolia Blossom
Free From
Parabens, SLS/SLES, Mineral Oil
Benefits
Triple milling is part of the process of soap making during which the soap is pressed between large rollers. This is done at least three times and is sometimes referred to as 'French milling'.
Triple milling ensures that the bars of soap have a consistent texture and evenly distributed fragrance. Triple milling creates a solid soap, ensuring it holds its shape longer than most normal bars of soap.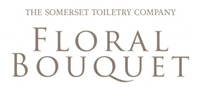 Floral Bouquet
Created By Somerset Toiletries
Unwind with fresh, floral fragrances and reminisce about long walks in wild, blossom-filled meadows. Floral Bouquet offers luxury toiletries and gift sets in four uplifting and evocative fragrances.
These perfected formulations provide nourishment and long-lasting fragrance.