Glycerose Soap
by Droyt
Natural moisturising glycerine soap.
Rose scented.
Made in England.
Description
Glycerose rose-scented glycerine soap has been made the same way for over 60 years. It is a very effective cleansing soap, with a high glycerine content for extra moisturising, leaving the skin feeling soft and refreshed.
Includes
Vitamin E
Storage
The soap will last longer if it is kept dry when not in use.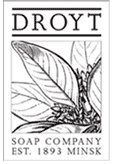 Droyt Soaps
All natural hand made soaps.
Soap company established 1893 in Minsk (Russia).
All Droyts soaps are carefully hand-made using the finest natural ingredients. These hard, clear soaps are created from Natural Oils and Vegetable Glycerine. The soap does not contain Parabens or animal derived ingredients.
Members of Greenpalm.org promoting sustainability in palm oil production.