Natural Anti-Bacterial Glycerine Liquid Soap
by Droyt
Contains natural bactericides Tea Tree and Rosemary.
Effective against MRSA.
Made in the England.
SLS and paraben free.
No added colour.
Description
Droyt Natural Anti-Bacterial Glycerine Liquid Soap is made using a special blend of natural essential oils which has been scientifically tested and is highly effective against pathogenic bacteria including MRSA.
We add extra vegetable derived glycerine to help the soap soothe and mosturise the skin.
Includes
Palm oil
Castor oil
Glycerine
Vitamin E
Tea Tree oil
Rosemary oil
Free From
SLS and paraben frre. No added colour.
To Use
Lightly press the pump to dispense the soap on to wet hands. It is a good idea to remove excess soap from the end of the pump nozzle as will help the pump dispense correctly.
Comments & Customer Reviews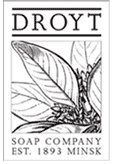 Droyt Soaps
All natural hand made soaps.
Soap company established 1893 in Minsk (Russia).
All Droyts soaps are carefully hand-made using the finest natural ingredients. These hard, clear soaps are created from Natural Oils and Vegetable Glycerine. The soap does not contain Parabens or animal derived ingredients.
Members of Greenpalm.org promoting sustainability in palm oil production.