Organic Liquid Soap with Glycerine
by Droyt
| | |
| --- | --- |
| Size: | 250ml pump bottle |
| Ref: | DR-7060 |
| Price: | £ 6.00 Out of Stock |
95% organic.
With palmarosa & lavender organic oils.
Soil Association certified.
Description
Made using pure organic palm, castor and coconut oils, and is lightly scented with a floral blend of specially sourced organic essential oils. We add extra vegetable glycerine to help the soap soothe and moisturise the skin.
Our soap has been approved Organic by the Soil Association. The only non-organic ingredients are water, vegetable derived glycerine and a small amount of the potassion cocoate.
Includes
Palmarosa oil
Lavender oil
Geranium
To Use
Lightly press the pump to dispense the soap on to wet hands. If very soiled, work into a lather before rinsing.
Advice
It is a good idea to remove excess soap from the end of the pump as this can dry and cause an obstruction. If the soap does harden at the end of the pump, simply remove the excess and use as normal.
Related Products
Use with the matching Organic Soap Bar.
Comments & Customer Reviews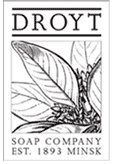 Droyt Soaps
All natural hand made soaps.
Soap company established 1893 in Minsk (Russia).
All Droyts soaps are carefully hand-made using the finest natural ingredients. These hard, clear soaps are created from Natural Oils and Vegetable Glycerine. The soap does not contain Parabens or animal derived ingredients.
Members of Greenpalm.org promoting sustainability in palm oil production.