Glycerine Shaving Soap
by Droyt
| | |
| --- | --- |
| Size: | 125g bar |
| Ref: | DR-225 |
| Price: | £ 2.55 Out of Stock |
With palm & coconut oils.
Fragranced with Droyt original eau de toilette.
Description
Specially formulated to produce a rich long lasting lather while soothing and moisturising the skin. It is lightly fragranced with Droyt Original Eau de Toilette first formulated in the 1920s.
Includes
Palm oil
Coconut oil
Castor oil
Glycerin
To Use
Wipe a moist shaving brush over the soap and then make up lather in the hand or a small bowl.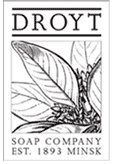 Droyt Soaps
All natural hand made soaps.
Soap company established 1893 in Minsk (Russia).
All Droyts soaps are carefully hand-made using the finest natural ingredients. These hard, clear soaps are created from Natural Oils and Vegetable Glycerine. The soap does not contain Parabens or animal derived ingredients.
Members of Greenpalm.org promoting sustainability in palm oil production.