Hand Finished Moisturising Glycerine Soap
by Droyt
Since 1937.
Lightly scented eau-de-cologne fragrance.
(Formerly Original Transparent)
Presented boxed.
Description
Droyt's glycerine soap has been carefully produced using a blend of natural oils to make a beautiful soap which contains extra glycerine to help moisturise the skin.
It cleans, refreshes and softens for an enjoyable washing experience.
Fragrance
Lightly scented with Eau de Cologne, this enduring classic is as popular now as it has ever been.
Benefits
With Vitamin E
Contains sustainable Palm Oil
Vegan
Storage
Keep dry when not in use.
Comments & Customer Reviews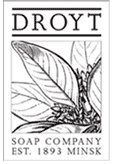 Droyt Soaps
All natural hand made soaps.
Soap company established 1893 in Minsk (Russia).
All Droyts soaps are carefully hand-made using the finest natural ingredients. These hard, clear soaps are created from Natural Oils and Vegetable Glycerine. The soap does not contain Parabens or animal derived ingredients.
Members of Greenpalm.org promoting sustainability in palm oil production.