Honey Rose Glycerine Soap
by Droyt
With a delicate rose fragrance.
Made in the UK.
Description
Glycerine based soap with high grade vegetable oils.
Palm Oil, Coconut Oil, Castor Oil and Glycerine are blended with special fragrances and additional oils to moisturise and cleanse.
Includes
Coconut oil
Palm oil
Castor oil
To Use
Suitable for Face, Hands and Body.
Comments & Customer Reviews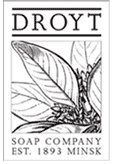 Droyt Soaps
All natural hand made soaps.
Soap company established 1893 in Minsk (Russia).
All Droyts soaps are carefully hand-made using the finest natural ingredients. These hard, clear soaps are created from Natural Oils and Vegetable Glycerine. The soap does not contain Parabens or animal derived ingredients.
Members of Greenpalm.org promoting sustainability in palm oil production.