Crazy Rumors Hibiskiss Tinted Lip Balm - Tropical
---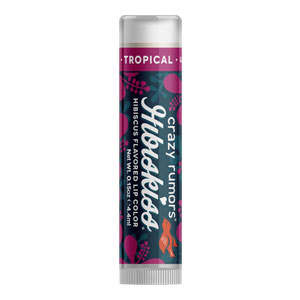 Crazy Rumors
Hibiskiss Tinted Lip Balm - Tropical
4.4ml wind-up tube
£5.00
Add to Basket
Catalog ref: CZ-138
Key Info
Natural Organic Lip Balms.
Three stunning shades.
Description
The original super moisturizing Shea Butter based lip balm makes this a real lip treat.
Subtle, buildable colour and lightly flavoured with a burst of enchanting Berry plus Floral inspired Hibiscus!
Shades
Breeze - Beautiful medium golden brown with berry undertones.
Tropical - Chic medium berry with stunning mauve undertones.
Coral - Universally flattering, medium neutral pink.
Benefits
The convenience of a 2 in 1 when you're on the run!
Buildable colour - one layer for a sheer, subtle tint or swipe away for a bolder, more defined look!
Includes
Organic Shea Butter
Pressed from the pit of the karite fruit grown on the shea tree, which is commonly found in Africa. These pits are collected, dried in the sun and then roasted. The result is a soft and creamy butter with amazing healing properties. Shea Butter contains nutrients such as vitamins A and E and is known to contain a natural UV protectant against the sun.
Macadamia Seed Oil
Expressed from the nut of the macadamia tree from native Australia. This oil offers a light, emollient cushion like feel. Macadamia seed oil also contains awesome anti inflammatory properties to help soothe irritated skin.
Organic Jojoba Seed Oil
Pressed from the seed of the jojoba shrub. Jojoba oil is very similar to the natural oil secreted by human skin, known as sebum. It is readily absorbed by all skin types and valued for its moisturizing, healing and protective properties.
Free From
Never any synthetic flavours, GMM's, parabens or gluten!
Cruelty - Free, Leaping Bunny approved, as well as Vegan Certified.
Ingredients