Baby Balm
by Badger
Size:

21g tin

Ref:

BA-282

Price:

£ 6.99 Add to Basket

Buy any 2 tins and get free Badger Focus Balm *
* Buy any 2 Badger Balm tins and get Badger Focus Balm for free. Prices will be automatically adjusted in your shopping basket. Offer limited to one free product per order.
Chamomile & calendula.
Certified organic.
Description
A sunny, golden yellow balm with the subtle scent of Chamomile and Calendula. These are very safe herbs, traditionally used to calm and soothe babies, and ideal for baby skin care.
This is also an excellent product for people with sensitive skin or with skin conditions.
For babies, use it to prevent and soothe the itching associated with Nappy Rash and Cradle Cap and it can also be used for a soothing baby massage.
Includes
Olive fruit oil
Golden Yellow Beeswax
Castor seed oil
Calendula flower extract
Roman Chamomile flower oil
To Use
Just massage liberally to cleansed skin.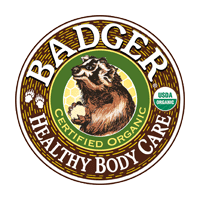 Soothing Balms
100% Natural, totally good.
USDA Certified Organic and petrolatum-free.
Presented in portable ointment tins.
The key to these super soothing balms is in the ingredients: Organic Extra Virgin Olive Oil and Beeswax. They are rich in natural ferments, enzymes, vitamin E, and essential fatty acids, which leave your skin feeling silky smooth. This simple combination of oil and wax is combined with naturally therapeutic essential oils.
Free of artificial ingredients, fragrances, dyes, parabens, GMOs, synthetics, or harsh ingredients.