Highland Mint Lip Balm
by Badger
| | |
| --- | --- |
| Size: | 4.2g wind-up stick |
| Ref: | BA-2262 |
| Price: | Sold Out |
Sorry, this product is no longer available.
Certified organic lip balm.
Try it, use it, never lose it.
Fresh, minty fragrance.
Description
Rich, nourishing blend will soothe and smooth lips, and prevent dry, flaking and chapped lips.
The natural blend includes Antioxidant Seabuckthorn Berry and Rose Hip Extracts, as well as an organic Aloe Vera Extract to soothe and heal.
Flavour
Imagine walking the Scottish Highlands in fields replete with Peppermint, Spearmint, and Lavender.
Add a dash of Rose Hip and Sweet Birch and there you have it. Take a deep breath... Minty flavor and highly refreshing.
Quickens, yet calms the mind.
Includes
Extra Virgin Olive oil
Golden Yellow Beeswax
Castor oil
Aloe Vera extract
Lavender oil
Spearmint oil
Peppermint oil
Rosemary extract
Rosehip extract
Seabuckthorn Berry extract
All Badger Lip Balms include about 99% Certified Organic Ingredients.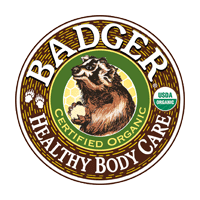 Badger Lip Balms.
100% natural Lip Care USDA Certified Organic.
Naturally Rich, Elegantly Soothing and full of Fabulous Scent.
USDA Certified Organic lip balms contain organic extra virgin olive oil and beeswax to moisturize your lips while protecting them from the elements.
A light texture, smooth glide, and a hint of shine make your lips feel and look great all the time.
No artificial colours, flavours, or sweeteners, just a bounty of antioxidants and nourishing goodness.