Cheerful Mind Balm
by Badger
| | |
| --- | --- |
| Size: | 17g wind-up stick |
| Ref: | BA-028 |
| Price: | £ 7.99 Out of Stock |
To Delight & Uplift the Spirits.
With Sweet Orange and Spearmint.
100% Natural & Certified Organic.
Description
Citrus aromas always encourage a cheerful mood - imagine peeling an orange and the lovely scent that fills the air.
The essential oils of Lemon and Sweet Orange cheer and uplift the mind while Spearmint dispels that "cloudy day mood." Ylang Ylang offers a beautiful, sweet flower scent that brings a smile to your lips.
Includes
Lemon Oil
Sweet Orange Oil
Spearmint
Ylang Ylang
Rosemary Oil
Cinnamon Oil
Extra Virgin Olive Oil
Beeswax
Rosehip
Benefits
Portable aromatherapy that's easy to carry and easy to use.
Uplifts the mind while softening skin.
The essential oil blend helps you to dispel that "cloudy day mood."
To Use
Just rub a little on hands, temples, forehead, or anywhere that needs soothing and breathe it in - the aroma will do the rest.
Comments & Customer Reviews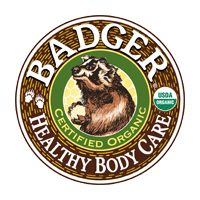 Organic Aromatherapy Mind Balms
100% Natural, totally good.
Soothe your skin & delight your mind.
These fabulously fragrant organic aromatherapy blends are convenient to carry & easy to use!
Badger Mind Balms are made from 100% Organic, All-Natural ingredients and can be applied anywhere on the body to help you experience their aromatherapy benefits. Application to the nose and lips is safe and effective.