Zam-Buk Traditional Antiseptic Ointment
---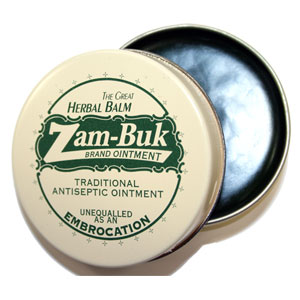 Key Info
The great herbal balm - unequalled as an embrocation.
Description
This original formulation will be recognised by many as a traditional balm to soothe painful chilblains. Now, after a long absence from our medicine chests, Zam-Buk is back.
Made in the UK, it is still packaged in an old-fashioned silver ointment tin.
The ointment contains Eucalyptus, Thyme and Pine resin combined with Beeswax and Camphor.
It has been used for decades as a useful embrocation to help soothe cuts, sores, bruises, sprains. chilblains and insect bites.
Ingredients
---
Product Comments & Customer Reviews
" Looking forward to receiving a brilliant product, just finished my last original from the 60s! " MG, Pershore
" My mother used to rub the ointment on my chilblains when I was a child. " MD, Preston
" It's the best ointment there is " BA, Nottingham
" Everyone should have a tin of this! " L.G, Powick
" Great to be able to get Zambuk I am 75 and my parents used it on the children and family for all sorts of skin problems. Great stuff if only it was not quite so green-can be a bit messy to use. " PL, Uxbridge