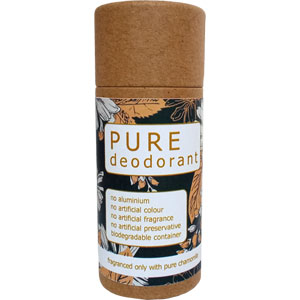 Key Info
Fragranced only with pure chamomile.
Now presented in a new plastic free tube.
Description
This exclusive formulation contains natural vegetable enzymes to effectively neutralize odours and will keep you fresh all day long.
With the subtle, fresh fragrance of Camomile this mild deodorant will not block pores or cause irritation.
Now presented as a solid stick in a push up, plastic free, biodegradable, bps free, cardboard tube.
Simply push up the base to raise the product. when empty simply recycle the tube.
Newspaper Review
Best Natural Deodorant:
https://www.independent.co.uk/extras/indybest/fashion-beauty/beauty/best-natural-deodorant-uk-b1804046.html
Free From
Aluminium, Preservatives, Artificial Colour, Perfume.
Ingredients
---
Product Comments & Customer Reviews
" The best deodorant. The only one I use. " WK, Troon
" Like this new biodegradeable packaging! " EH, Poulton-Le-Fylde
" A thank you for the wonderful service and congratulations for the new Pure deodorant packaging. It's the only one I can use and the larger size and cardboard container are the best. " WK, Troon
" Thank you for making this great product. " CS, Belvedere
" Pure deodorant only one that doesn't irritate my skin. " MO, Chorley
" Pure Deodorant is great, i have tried everything and this is the only one that doesn't itch! " AM, Stratford-Upon-Avon
" I just love this. Benn using if for over 30 years. Thank you " JD, Uxbridge
" Just love this. " JD, Uxbridge