Potions & Possibilities Relax & Unwind Roller Ball
---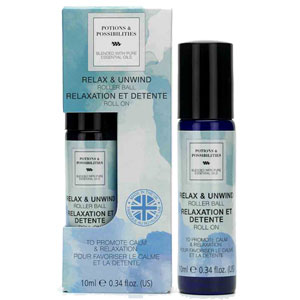 Potions & Possibilities
Relax & Unwind Roller Ball
10ml roller ball
£2.95 was £5.95 (save 50%)
Sorry, out of stock
(sold out)
Catalog ref: PO-RU
Key Info
Blended with pure essential oils.
To promote calm & relaxation.
Description
When your mind is racing, apply the Relax & Unwind Roller Ball on your pulse points to calm and soothe.
This delightful roller ball is a blend of the exquisite scents of geranium, palmarosa, lavender and ylang ylang - essential oils that can aid relaxation.
Includes
Geranium Oil
Lavender Oil
Palmarosa Oil
Ylang-Ylang Oil
Coconut Oil
To Use
Roll on to pulse points as required.
Ingredients
---
Product Comments & Customer Reviews
Potions & Possibilities - Relax & Unwind Roller Ball
" Lovely stuff " AF, Royston