Palladio The Definer! Contour + Highlight Crayon
---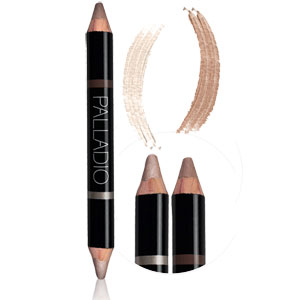 Palladio
The Definer! Contour + Highlight Crayon
2.2g net
Discountined, no longer available.
Catalog ref: PL-CDEF
Key Info
Double ended soft crayon.
Contours any face shape.
Description
A unique two-sided super-soft contouring jumbo crayon that is the perfect tool for defining and refining facial features.
Contours any face shape for a more defined appearance.
One universal combination includes a highlighting shade to illuminate and soften shadows plus a darker shade to accentuate and define features.
Glides on and blends seamlessly.
Benefits
- Contour any face shape to create a more defined appearance
- Thins a round face, narrows a deep forhead
- Softens a square jawline
- Narrows a wider nose, shortens a long nose
- Defines cheekbones
Includes
Green Tea
Cocoa Butter
Beeswax
Castor Oil
Free From
Parabens, Fragrance.
To Use
Presented in a graphic box with tips for contouring and defining.
Ingredients