Palladio Make-Up Brush - Blush
---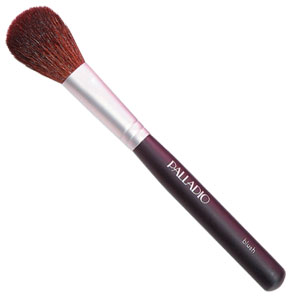 Palladio
Make-Up Brush - Blush
170mm length
£6.00 was £9.00 (save 33%)
Add to Basket
Catalog ref: PL-B456
Key Info
Soft and ergonomic.
Made with natural bristles.
Description
A super soft, rounded brush for smooth blending of powder blush. The smooth shape of the brush ensures colour is applied evenly to the cheeks for a fresh, flushed look.
Also, can be used as a bronzer brush.
Size
Brush head 35mm, overall length 170mm.
To Use
Sweep brush over the blusher and tap off any excess. Look into the mirror and smile.
For a healthy 'blush' just apply to apples of your cheeks. Keep color light & blended.
If you've gone a bit too heavy on the powder blush, a bit of translucent powder over it will calm it down. Finish your look with a sweep of translucent powder.
Tip
For a sun-kissed sheen dab bronzer powder on your forehead, chin & nose BEFORE applying blush.