Palladio I'm Blushing! 2-in-1 Cheek & Lip Tint - Precious
---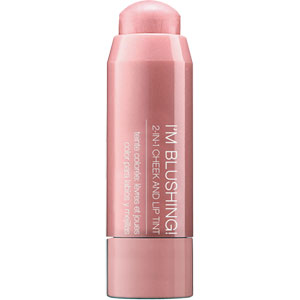 Palladio
I'm Blushing! 2-in-1 Cheek & Lip Tint - Precious
6g wind-up stick
£9.00
Sorry, out of stock
Key Info
Botanical & vitamin infused.
Description
A multi tasking cream colour stick that provides a subtle flush of colour to cheeks and lips.
The soft cushiony formula glides on easily, blends naturally and gives a subtle dewy finish with a subtle hint of colour.
Enriched with skin nourishing vitamins and botanicals
Benefits
- Soft, cushiony formula glides-on easily.
- Blends naturally.
- Natural, dewy finish with just a hint of colour.
Includes
Aloe - astringent, hydrates, regenerates, rejuvenates, antibacterial.
Camellia - restores, antioxidant.
Chamomile - calming, softening, anti-inflammatory.
Safflower Seed Oil - hydrating, antioxidant, anti-inflammatory.
Ginko - antioxidant, helps improve blood flow.
Ginseng - energizing, antioxidant.
Free From
Parabens, Mineral Oil.
Ingredients